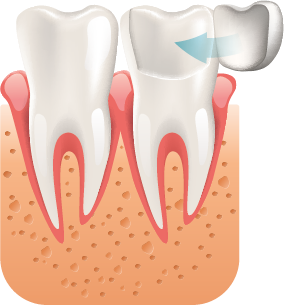 Dental Veneers
Santa Clarita dentist, Dr. Sarkis Aznavour, assists patients at Healthy Smiles Dental in achieving beautiful smiles. Many patients are candidates for restorations such as porcelain veneers for addressing dental imperfections.
Watch video that explains the differences between dental veneers and lumineers.
WATCH NOW
What is a veneer?

A porcelain veneers is a ceramic restoration that is bonded onto the front of a tooth like a facing. It is intended to cover up imperfections such as unusually shaped teeth, misaligned teeth, or stained teeth. patients may use two or more veneers together to cover up gaps in-between the teeth for a more aesthetic appearance.

What are Lumineers?

Lumineers are much thicker than traditional porcelain veneers. However, they do not require as much grinding of the natural tooth structure to bond them into place. This may, in some cases, create a bulkier shape to the tooth.
What are the advantages of each (Lumineers and traditional porcelain veneers)?
Lumineers and traditional porcelain veneers are available at Healthy Smiles Dental. Deciding which one is right for you is a personal decision and must be discussed with Dr. Sarkis Aznavour. Patients want to make an educated decision in regards to their dental restorations. Lumineers have the advantage of removing less natural enamel of a tooth and instead require just a rough surface to help the restoration bond in place. Porcelain veneers, on the other hand, are thinner than Lumineers and have a more natural appearance, though they are not reversible. The disadvantage of veneers is in maintenance. Patients who clench or grind their teeth will need to protect their smile and restorations using a mouth guard at night, while those with poor bite alignment may have issues with keeping their restorations in place. Porcelain veneers and Lumineers can fail due to improper bite and chewing of extremely hard foods such as ice cubes.
Who is a candidate for porcelain veneers?
Most patients with a proper bite alignment and healthy smile may be a candidate for the fabrication and placement of porcelain veneers or Lumineers. Teeth should be free from cavities and infection, and patients should discuss any issues such as bruxism and poor bite alignment which may be of concern.
What types of problems do dental veneers fix?
Chipped
Broken
Discolored
Worn down
Irregularly shaped
Misaligned
Uneven
With gaps between them
How do I schedule an appointment?
If you are ready to learn more about porcelain veneers and Lumineers, connecting with a quality dentist in the area is your first step! Call Dr. Sarkis Aznavour and his team at Healthy Smiles Dental at24242 Lyons Ave in Santa Clarita, CA by calling (661) 260-1220to schedule a consultation visit and initial evaluation to discuss the possibilities of cosmetic dentistry solutions.
SCHEDULE AN APPOINTMENT NOW!
Related articles about porcelain veneers