Does Dental Insurance Cover Porcelain Crowns?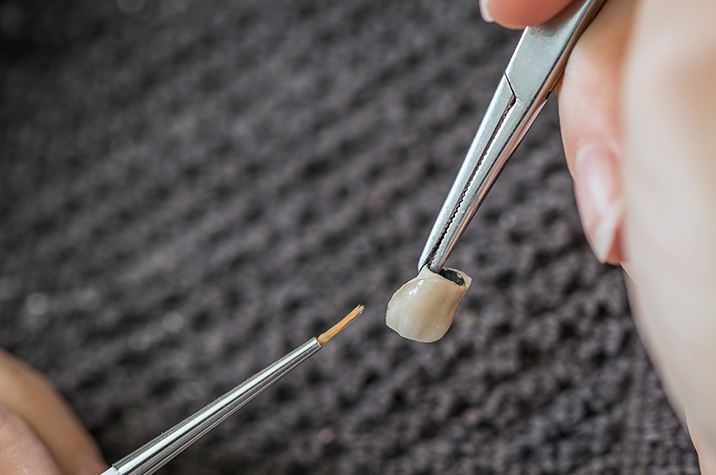 If you need porcelain crowns, Santa Clarita certainly has many dentists that provide this procedure. Healthy Smiles Dental is ready to work with you to help you achieve the beautiful smile that you desire. We offer everything from general to cosmetic and restorative dentistry in one convenient location.
Porcelain Crowns: Dental Insurance Coverage
If you need a porcelain crown, one of the main factors in your decision may be the cost and whether it is covered by dental insurance. What dental insurance covers can differ based upon the type of plan and benefits that you have chosen for that particular plan. Insurance plans typically provide for an annual amount of maximum coverage. Then you would pay for additional expenses above this amount.
In general, dental insurance will cover procedures like routine cleanings, fillings, and x-rays. Porcelain crowns are also normally covered because, even though they have cosmetic functions, crowns are necessary for the maintenance of good dental health. They can help to repair a cracked tooth or support a weak tooth. If the reason for the porcelain crown is purely cosmetic, it may not be covered.
Dental Crowns: Types
There is no standard cost for a dental crown. The price depends mainly on the materials used. There are four basic types of materials used in dental crowns: base-metal alloys, porcelain-fused-to-metal, gold alloys, and all-ceramic. If you get a ceramic crown, it will be made of porcelain. Another type of dental crown involves the use of a metal structure with an overlay of porcelain that matches the color of your surrounding teeth.
All Porcelain Crowns
This type of dental crown is ideal for restoring the front teeth since porcelain is a type of material that is both translucent and resembles the color of natural teeth. In fact, porcelain materials are considered to be the most favored choice for a dental crown. Porcelain material itself is a type of ceramic that is developed by a special process of firing.
Pure porcelain as a crown material is favored because it is the only type that can genuinely offer a translucent appearance. However, the only real drawback to using porcelain for dental crowns is the level of expertise needed to place them, which adds to the expense.
Some key advantages of porcelain crowns are that they do not cause allergic responses. This material is extremely biocompatible and inert in your mouth. Porcelain is also aesthetically appealing and provides an ideal choice for those who would like a natural-looking tooth.
Porcelain Crowns Placement
The fitting of porcelain dental crowns is much like that of any other type of crown. We begin by cleaning, reshaping, and preparing the tooth for treatment. The tooth may need to be altered somewhat so that the crown can fit firmly on top of it.
Next, we use a special dental putty to form an impression of your tooth. This helps us to create a mold that we send to a lab for the creation of your new porcelain crown. You will receive a temporary crown until your porcelain is ready.
Finally, we firmly fix your new porcelain crown using dental cement. Some particular etching acid may be used so that the crown grips firmly onto the tooth.
Let Us Hear From You
When it comes to porcelain crowns, Santa Clarita patients trust the professional staff at Healthy Smiles Dental. Contact our office right away to book your dentist consultation as the first step in receiving your porcelain crowns.
Location: 24242 Lyons Avenue Santa Clarita, CA 91321
Related Articles